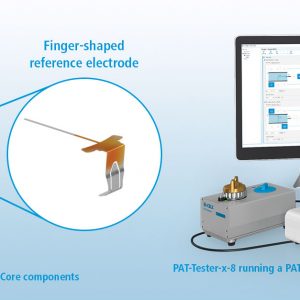 —
The finger-shaped reference electrode is considered useful for several scenarios: 

It can be employed as a stainless steel pseudo-reference electrode.
It can be coated by the user with a reference material (e.g. LTO).
It can be lithiated or delithiated by the user in-situ after cell assembly.



All these scenarios are perfectly supported by our PAT battery testers, like the PAT Tester-x-8 and EL-Software. This is shown here using the example of a cell consisting of NCM and graphite. After building the cell, the stainless steel finger is first electroplated with lithium utilizing the NCM electrode as the lithium source.
In the second step, the lithiated finger is used as a stable reference electrode when cycling the NCM / graphite cell. Switching between the two modes is easy to do in the test script. No cable connections need to be changed, as would be necessary with a conventional battery tester.
Conclusion:
EL-Software and the PAT-Core make pre-lithiating a simple task.