PAT-Stand-1 U
Single-channel docking station for the most flexible operation of customized PAT-Cell designs.
The PAT-Stand-1 U is a single channel docking station compatible with almost any type of PAT-Cell and battery tester/ potentiostat. All connections/ signals of the inserted PAT-Cell are available through the banana sockets at the front of the docking station. This makes the PAT-Stand-1 U the perfect fit for specialized/ customized PAT-Cells such as the PAT-Cell Twin-Ref. For temperature control, the PAT-Stand-1 U can be placed into a climate chamber, while the controlling battery tester or potentiostat may remain on the benchtop.
PAT-Stand-1 U overview
Features
Docking station for use with a single PAT-Cell-TwinRef.
May be used to connect with any other PAT series test cell. All signals of the respective test cell are available through banana sockets at the front panel. Compatible with any potentiostat or battery tester.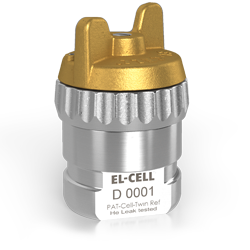 Specialized PAT-Cell for testing simultaneously with two reference electrodes.