ECC-DEMS
Test cell for time-resolved gas analysis. For Li-air and conventional Li-ion chemistries.
Our test cell dedicated to the in-situ gas analysis in aprotic Li-air and conventional Li-ion systems.
The ECC-DEMS features a current collector with a spiral-shaped flow-field that is to be constantly purged with a gentle stream of inert gas. Gases evolved or consumed at the working electrode may be analysed through the composition change of the gas stream that is to be passed along the spiral-type flow field below the working electrode. The composition of the outgoing gas can be analyzed by e.g. mass spectrometry.
The ECC-DEMS cell provides almost perfect plug-flow of the purge gas being essential for quantitative time-resolved analysis. Pressure gradient between cell headroom and spiral-type flow field effectively prevents back-mixing and ensures best possible time resolution.
ECC-DEMS overview
Features
Operation with or without reference electrode
High precision 18 mm diameter sandwich geometry with <0.1 mm electrode concentricity Reliable low leakage sealing with PE washers Easy and reliable electrolyte filling during assembly Fast assembly and dismantling and easy cleaning of cell components Electrodes are easily accessible for post-mortem analysis Reusable cell components except for PE seal Adjustable, reproducible and homogeneous mechanical pressure on electrodes Materials in media contact are stainless steel 1.4404 and PEEK (other materials on request)
Heat Resistance Set
The Heat Resistance Set increases the temperature range for testing with the ECC-DEMS to 150 °C.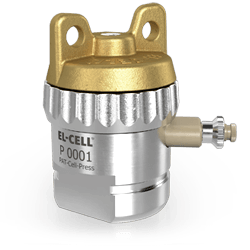 The PAT-Cell-Press is the ideal, leakproof cell for pressure testing.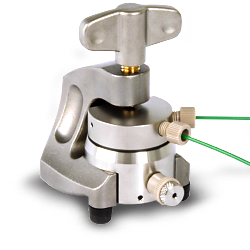 Test cell for characterization of gas diffusion electrodes in aprotic electrolytes