ECC-Air
Test cell for characterization of gas diffusion electrodes in aprotic electrolytes
The ECC-Air is another member of the modular ECC-series dedicated to the electrochemical characterization of gas diffusion electrodes in aprotic electrolytes, e.g. for lithium-air batteries.
Basically, the upper diffusion type electrode is contacted by and "breathes" through the perforated stainless steel current collector (plate) on top. The gas volume inside the cell above the perforated plate is accessible via a port in the cell lid. The design includes a reference electrode.
ECC-Air overview
Features
Operation with or without reference electrode
High precision 18 mm diameter sandwich geometry with Reliable low leakage sealing with PE washers Easy and reliable electrolyte filling during assembly Fast assembly and dismantling and easy cleaning of cell components Electrodes are easily accessible for post-mortem analysis Reusable cell components except for PE seal Adjustable, reproducible and homogeneous mechanical pressure on electrodes Materials in media contact are stainless steel 1.4404 and PEEK (other materials on request)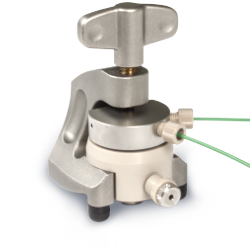 Test cell for electrochemical characterization of gas diffusion electrodes in aqueous electrolytes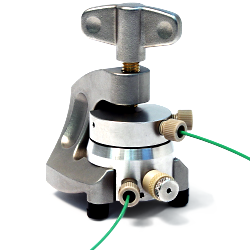 Test cell for time-resolved gas analysis. For Li-air and conventional Li-ion chemistries.