PAT Series Overview

Learn more about our perfectly matched system of testing devices for the research of battery materials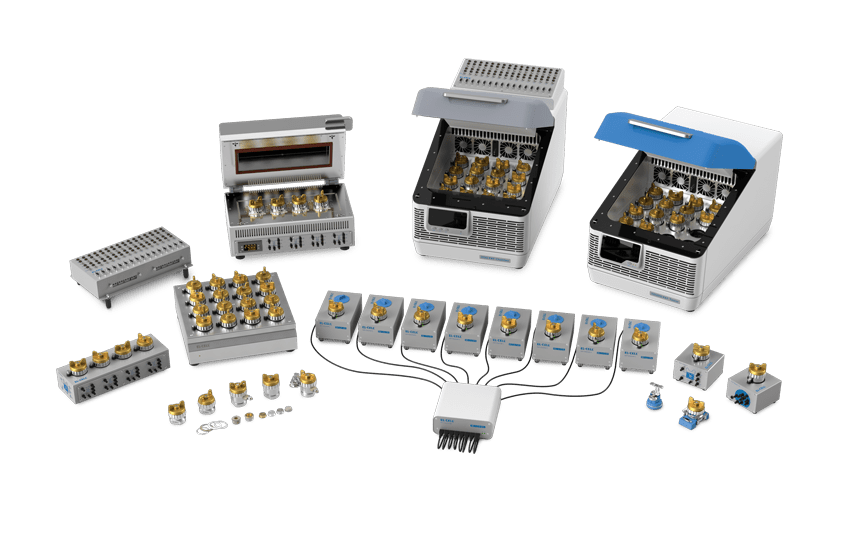 Our comprehensive, modular system for testing new battery materials
With the PAT series, we are the first supplier worldwide to offer you a complete system consisting of test cells, potentiostats and control software that are perfectly matched to each other. This makes testing battery materials more efficient, more reproducible and easier to use than ever before.
Our test cell system consists of different cell housings which contain the cell stack and enable electrical contact with the potentiostat. Different variants with additional features such as pressure sensors or gas connections are available for the respective test purpose.
Unlike other products, PAT test cells are cableless. They are simply inserted into a docking station which is permanently connected to the battery tester used. This way the wiring does not have to be renewed before every test, which saves time and prevents mistakes.
It becomes even easier when the cells are used in a PAT battery tester like the PAT-Tester-i-16, which makes the usual cabling completely obsolete.
The PAT-Core is the core component of each PAT-Cell, which contains the actual cell stack with electrodes, current collectors, separator and electrolyte. The individual components of the PAT-Core are available in different variants that can be freely combined with each other. This means that the test cell can be quickly and easily adapted to a wide variety of test purposes.
For high-throughput applications, pre-assembled single-use components are available. Our reusable current collectors and insulating sleeves, on the other hand, are ideal for smaller test series, extraordinary test scenarios or tighter budgets.
>More about the PAT-Core concept
We strongly believe that reliable and simple 3-electrode measurements are the most efficient way to develop new battery materials. As a consequence, all PAT test cells are designed for long-term measurements with three electrodes. You can record the electrical properties of the full cell and both half cells simultaneously with just one test run. These features significantly reduce the time and effort involved in testing compared to 2-electrode cells, such as commercially available coin cells.
The power of testing with a reference electrode
By monitoring the cell voltage and cell current of the battery, you can learn a lot about the performance and ageing of the battery as a whole.
However, a battery comprises two electrodes connected in series: cathode and anode. Which of the two is the bottleneck for charge transfer? Which electrode is dying off first?
Testing with a reference electrode answers these questions because the voltage and impedance of both half cells can be measured simultaneously. This makes it easy to see how the two electrodes behave individually.
When used with a powerful battery tester such as the PAT-Tester-i-16, the reference electrode enables you to measure the electrochemical properties of both electrodes at the same time.
> Learn more about the advantages of three electrode testing
In order to connect and operate a PAT-Cell with a potentiostat, the cell is simply inserted into the socket of a PAT docking station. Only the docking station itself is permanently wired to the potentiostat, the PAT-Cells themselves are cableless. In this way, the connection to the potentiostat no longer has to be renewed and checked before each test.
In principle, all PAT-Cells can be used in any docking station to test basic electrical properties such as capacity and impedance. The only exception is the high temperature docking station, the PAT-Heater-4, which can only be used with specially designed PAT-Cell-HT test cells.
Many docking stations also support additional functions of the more specialized members of the PAT series, such as the measurement of the gas pressure with the PAT-Cell-Press.
>See our compatibility table for supported features of all PAT docking stations
The main difference between PAT docking stations is the number of connection sockets for the test cells. The smallest docking station, the PAT-Clamp-1, has a single socket, the largest ones offer space for up to 16 PAT-Cells. The PAT-Chamber-16 also offers an integrated temperature chamber to test PAT-Cells at temperatures between +10 and +80° Celsius.
PAT docking stations can be connected and operated with all currently available potentiostats or battery cyclers.
We have incorporated our long-standing practical experience with electrochemical testing into the development of a new generation of battery testers, the EL-CELL PAT-Tester series. Our focus is on convenient handling and minimizing laboratory space as much as possible through high integration of core components and a modern system architecture.
Each test channel of a PAT battery tester contains a fully equipped potentiostat / galvanostat and impedance analyser as well as new, unique features. A connection matrix facilitates alternating between full-cell and half-cell control at runtime without having to change even a single cable. In an unprecedented way, impedance measurements may be combined with cyclic voltammetry and constant current cycles.
Two different product lines, based on the same system architecture, offer a variety of application options:
The PAT-Tester-i-16, a highly integrated device, combines a temperature controlled chamber, a docking station for PAT series test cells and the battery tester with up to 16 fully equipped test channels. Minimal space requirement makes the PAT-Tester-i-16 the perfect solution for high-throughput test scenarios with PAT-Cells but also other small battery formats like coin, Swagelok or pouch cells.
The PAT-Tester-x-8 is the perfect solution whenever maximum flexibility is required. Up to 8 test cells can be tested simultaneously in very different environments with this device: on the laboratory bench, in the glovebox, in a climatic chamber, or wherever else you want. The electronics of the single channel are identical to the one in the PAT-Tester-i-16. This guarantees the highest performance, not only for PAT-Cells, but also for all other EL-CELL test cells, as well as for coin cells and a variety of other cell formats.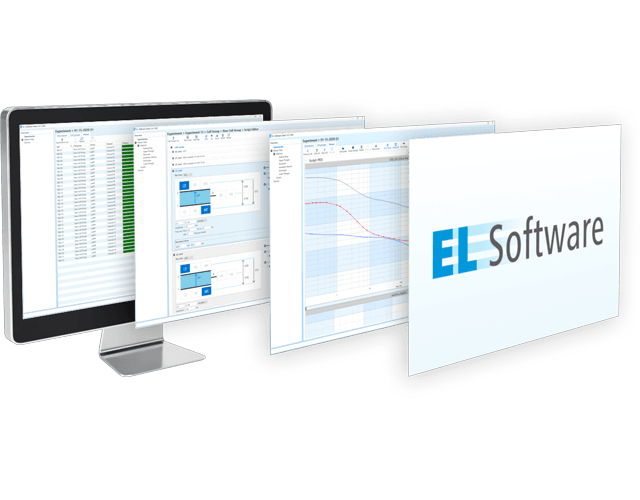 EL-Software is the newly developed software solution from EL-CELL to plan, perform and evaluate experiments with the PAT battery testers. The software enables networked, location-independent operation with a scalable number of test channels and devices.
All relevant data, like cell components, script procedures or the resulting measurements, are written into a central, conveniently searchable database. This growing data treasure is accessible for all users in the same network and helps to speed up the process of experiment planning and interchanging of test data significantly. With the powerful yet easy-to-use test composer you can set up virtually any battery procedure, from simple voltammetric experiment to a complex test that combines constant current cycles at different C-rates with intermittent impedance measurements.
In batch mode, any number of test procedures can be performed sequentially, either for a single test cell or for a group of test cells – all this without writing a single line of code.
Available control modes are constant current, constant voltage, open circuit, linear voltage sweep, galvanostatic and potentiostatic impedance.
Finally, EL-Software provides you with state-of-the-art graphics capabilities for visualizing your test results, while the open export interfaces allow seamless integration into existing software pipelines.