Electrochemical test equipment
EL-CELL designs and manufactures high performance electrochemical research instruments for Li-ion and next-generation battery technologies.
Learn more about the PAT series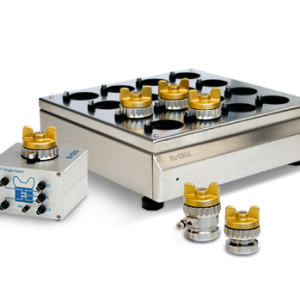 Learn more about the PAT system. It features a complete testing ecosystem with test cells, docking stations with temperature control and fully equipped battery cyclers.
Get our current product brochure here


Head over to our download page or use the button below to get our latest product brochure.
Our range of electrochemical test cells covers the latest PAT series, the established ECC series, as well as numerous test cells for special purposes, such as the in-situ monitoring of electrode strain (thickness change) or optical properties.
PAT cells for different purposes utilizing the modular PAT-Core concept
ECC test cells including devices for optical characterization
ECD dilatometer for in-situ monitoring of electrode strain
Whether high-throughput or individual battery testing, our docking stations for the PAT series test cells suit your needs.
Temperature controlled docking stations
Perform tests with 1, 4 or 16 channels
Compatible with all of today's multi-channel potentiostats and battery testers
Fully equipped single- and multi-channel potentiostats / galvanostats / impedance analyzers with unique features.
Independent channels for PAT-series test cells
Each channel with fully featured potentiostat / galvanostat /impedance analyzer
Integrated Peltier-temperature-control with a temperature range of +10 to +80°C
We offer useful tools for enhancing the work experience with our test cells and make your lfe as a battery researcher easier.
High precision cutting pliers to eliminate torn and chipped electrode edges.
Punching tools for lithium foil
Assembly and filling aids for our test cells
We can customize our products to meet your specific requirements. All products shown here evolved from customer requests.