PAT-Terminal-1
Powerful assistance in the glovebox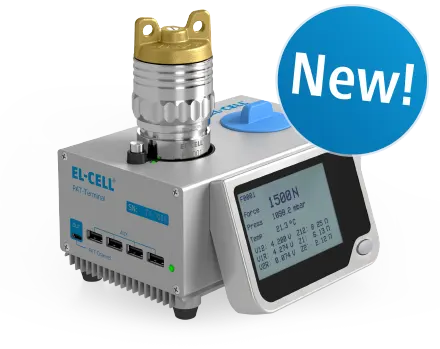 The PAT Terminal-1 greatly simplifies your workflow when assembling PAT series test cells in the glove box. It is an advanced PAT-Channel-1 that can perform impedance measurements and other quick functional tests of your test cells as a stand-alone device.
Insert the newly built cell into the PAT-Terminal-1 and directly read the electrical values and sensor signals like force, pressure, or dilation on the large display.
This allows you to make precise sensor adjustments for in-situ cells such as the PAT-Cell-Force directly in the glove box or to check the electrical values immediately after assembly.
Of course, the PAT-Terminal-1 is also a fully equipped test channel with all PStat / GStat / EIS abilities and can be connected as usual to the controller unit of a PAT-Tester-x-8.
Features
Features
Fully equipped test channel with PStat / GStat / EIS,  +-7V control voltage, 100 mA current Can be operated as a stand-alone device directly in the glovebox. Can perform cell functionality checks (e.g. impedance) Integrated display showing live data of inserted test cell Can be used as test channel in a PAT-Tester-x-8 setup