PAT-Dummy-Cell I
Basic cell for performing a functional test of your PAT-Tester

PAT-Dummy-Cell-I overview
1. DC test with constant current
When applying a constant current, the dummy cell behaves, in steady state, as an ohmic voltage divider. For the test shown below we apply a current of 1 mA between 1 and 2, then between 1 and R, and finally between 2 and R. The three cc steps are separated by rest steps. Each step takes 200 milliseconds. The steady state is reached within a few ms, defined by the time constant of the respective RC element.
Script used: Dummy-I-CC-i12-i1R-i2R.elc
2. Impedance (GEIS) test
The RC elements of the dummy circuit are best characterized by impedance measurements. For the results shown below as Bode plots, we applied a sinusoidal alternating current with an amplitude of 1 mA, with frequencies between 100 kHz and 1 Hz. First, the alternating current was applied between 1 and 2, then between 1 and R and finally between 2 and R.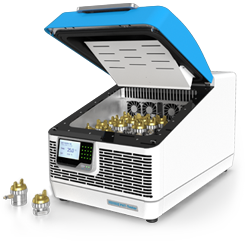 The PAT-Tester-i-16 enables intuitive PAT series testing with the smallest possible footprint.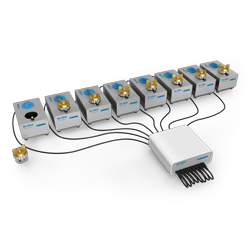 Fully featured potentiostat / galvanostat / impedance analyzer with up to 8 channels for small scale and special purpose testing.