PAT-Cell-HT
Heat resistant PAT series test cell for up to 200°C
Our PAT series test cell for 2-or 3-electrode testing at elevated temperatures
The PAT-Cell is a test cell for 2- and 3-electrode measurements on battery materials at temperatures up to 200°C. It uses the modular PAT-Core concept and can therefore be used for a variety of test purposes. The cell has no wiring but is inserted directly into a PAT battery tester or connected to any commercially available battery tester / potentiostat via a PAT docking station. In order to fully utilize the temperature range up to 200°C, we recommend using the PAT-Heater-4 docking station.
To meet the challenges of battery tests at elevated temperatures, we offer a special version of the PAT-Core insulation sleeve. This reusable sleeve is made of PEEK (rather then PP) and is especially useful for the investigation of solid state (ceramic) electrolyte membranes. Just like the standard PP sleeve, the PEEK sleeve can be equipped with different reference materials such as lithium, sodium or magnesium. The standard current collectors (plungers) complete the PAT-Core. Available plunger materials are aluminum and copper (for single use), or stain­less steel 316L and PEEK (for reuse).
PAT-Cell-HT overview
Features
PAT-series test cell for 2-or 3-electrode testing at elevated temperatures
Continuous operating temperature: up to 200°C Demountable PEEK insulation sleeve for self-installation Single-use ring-shaped reference ring and reed contact Compatible with solid state electrolyte membranes
Specifications
Compatible PAT docking stations
Complete test setup with PAT-Tester-x and PAT-Heater-4
With the development of our own potentiostats / galvanostats / impedance analyzers, the PAT-Tester series, we are now able to offer you complete setups for your experiments. For tests with the PAT-Cell-HT we recommend the use of our heated docking station, the PAT-Heater-4 in combination with a 4-channel PAT-Tester-x-8. This flexible setup is characterized by its low space consumption and easy handling and allows you to efficiently test your battery materials up to 200°C.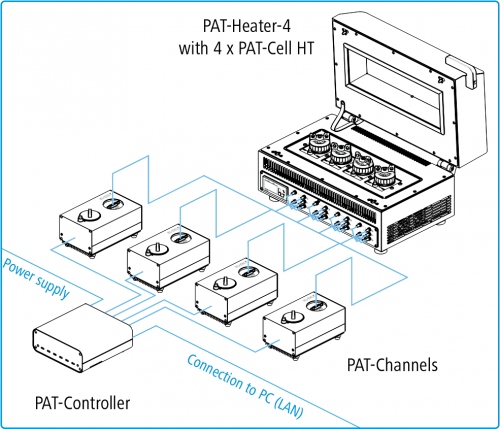 Recommended PAT-Core configuration
This information can be used as a guide for building test cells of the PAT series. More PAT-Core setups can be found here.
Testing with aprotic high-temperature electrolytes
How to assemble the PEEK insulation sleeves (02/2018)
In this video we will show you how to assemble the PEEK insulation sleeves in a few steps. In contrary to the preassembled single-use insulation sleeve made of PP, the PEEK variant needs to be assembled before each use but has the advantage of reusability.
High precision cutting pliers to eliminate torn and chipped electrode edges. Recommended diameter size for use with the ECC-Ref is 18 mm.
Punching tool for lithium foil. The recommended size for use with the ECC-Ref is 18 mm.
Any comments about this page?