Electrochemical dilatometer ECD-4-nano
Advanced test cell for the measurement of the expansion and contraction of the electrodes in the nanometer range.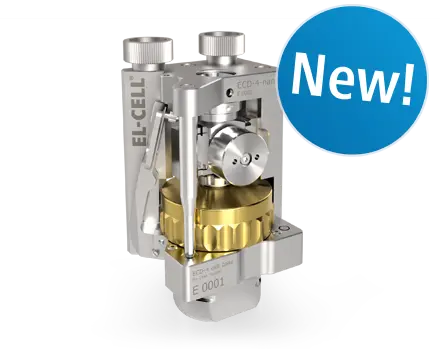 The ECD-4 takes dilatometry measurements to the next level
The ECD-4-nano is a high-resolution electrochemical dilatometer. The most powerful version offers a capacitive parallel plate sensor system with a resolution of better than 5 nanometers. This makes the ECD-4-nano the perfect instrument for detecting thickness changes of the individual electrode or the full cell stack during the electrochemical cycle.
The ECD-4-nano's completely redesigned test cell features a corrosion-resistant cell bottom and a new One-Seal concept that significantly improves tightness over previous ECD-3 models. This enables stable long-term operation as well as the use of a wide range of electrolytes.
To further improve workflow and handling, we have now integrated the ECD-4-nano into the PAT system. The dilatometer can be inserted directly into a PAT-Tester-x or a docking station such as the PAT-Clamp-1. This allows a space-saving and fast setup of the instrument. Needless to say, the integrated PAT-Button also ensures automatic recognition of the test cell in our EL-Software measurement software.
ECD-4-nano overview
Working principle (3-electrode setup)
The working electrode (WE) and the counter electrode (CE) are separated by a stiff glass frit soaked with electrolyte. The upper WE is sealed by means of a flexible metal membrane, through which any charge-induced thickness change is transmitted towards the sensor/load unit attached on top. The fixation of the glass frit ensures that only the thickness change of the working electrode is being detected without interference from the CE.
Features
PAT series test cell for dilatometric analysis (expansion of electrodes)
Suited for 2- and 3-electrode measurements Capacitive displacement sensor (range 250 μm, resolution ≤ 5 nm) Laser-welded gas pressure sensor, 0 to 3 bar abs. Temperature sensor, -20 to 80° C Electronic cell tag (PAT-Button) for automatic cell identification Electrode feedthroughs with glass-to-metal seals Helium leak tested for optimum tightness
Specifications
Compatible PAT docking stations and potentiostats
Assembly procedures of the ECD-4-nano electrochemical dilatometer (01/2023)
In this video, Dr. Matthias Hahn guides you through all the necessary steps to assemble the ECD-4-nano inside the glove box.
Recommended docking station and potentiostat
The PAT-Tester-x offers maximum flexibility with up to 8 channels for small scale and special purpose testing.
High precision cutting pliers to eliminate torn and chipped electrode edges. Recommended diameter size for use with the ECD-4-nano is 10 mm.
Punching tool for lithium foil. The recommended size for use with the ECD-4-nano is 12 mm.