ECC-Air-Ni
Test cell dedicated to the characterization of gas diffusion electrodes in alkaline aqueous electrolytes
The ECC-Air-Ni is another member of the modular ECC series. In contrast to the standard ECC-Air test cell, the current collectors are made of nickel instead of stainless steel. This way, the ECC-Air-Ni is stable against corrosion in alkaline aqueous electrolytes.
Basically, the cell accommodates a counter electrode on the cell bottom, a gas diffusion electrode on top and a separator in between. The upper gas diffusion electrode is contacted by and "breathes" through the nickel perforated plate (current collector) above. The cell lid is equipped with one port for gas inlet and one for gas outlet, so that the incoming gas passes along the backside of the gas diffusion electrode and leaves the cell through the siphon. The ECC-Air-Ni can be used with a reference electrode, which is located at the separator edge.
ECC-Air-Ni overview
Features
Test cell dedicated to the characterization of gas diffusion electrodes in alkaline aqueous electrolytes.
Upper electrode is contacted by and breathes through a perforated plate (current collector) made of nickel Gas inlet and outlet for supply of pressurized gases to the gas diffusion electrode A siphon directs the incoming and outgoing gas High precision 18 mm diameter sandwich geometry with Reliable low leakage sealing with PE seal and PTFE ferrules Easy and reliable electrolyte filling during assembly Fast assembly and dismantling and easy cleaning of cell components Electrodes are easily accessible for post-mortem analysis Reusable cell components except for PE seal Small and defined electrolyte volume due to minimized dead volume Adjustable, reproducible and homogeneous mechanical pressure on electrodes Materials in media contact are nickel and PEEK Modular cell construction with many interchangeable components
Heat Resistance Set
The Heat Resistance Set increases the temperature range for testing with the ECC-Air-Ni to 150 °C.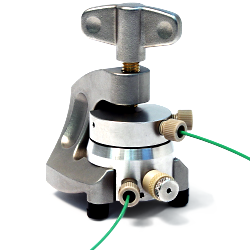 Test cell for time-resolved gas analysis. For Li-air and conventional Li-ion chemistries.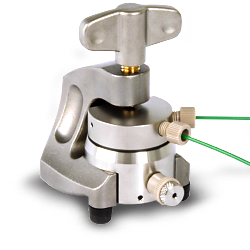 Test cell for electrochemical characterization of gas diffusion electrodes in aprotic electrolytes