ECC-Aqu
Test cell for use with aqueous electrolytes

The ECC-Aqu electrochemical cell is dedicated to the characterization of aqueous battery and capacitor systems. The cell is equipped with a reference electrode assembly. Cell parts that come in contact with the electrolyte are made of gold and PEEK and can thus withstand all common aqueous electrolytes like sulphuric acid (up to 50% concentration) or potassium hydroxide. Other construction materials like platinum are optionally available.
ECC-Aqu overview
Features
Operation with or without reference electrode
High precision 18 mm diameter sandwich geometry with Reliable low leakage sealing with PE washer Easy and reliable electrolyte filling during assembly Fast assembly and dismantling and easy cleaning of cell components Electrodes are easily accessible for post-mortem analysis Reusable cell components except for PE seal Adjustable, reproducible and homogeneous mechanical pressure on electrodes
Heat Resistance Set
The Heat Resistance Set increases the temperature range for testing with the ECC-Aqu to 150 °C.
High precision cutting pliers to eliminate torn and chipped electrode edges. Recommended diameter size for use with the ECC-Aqu is 18 mm.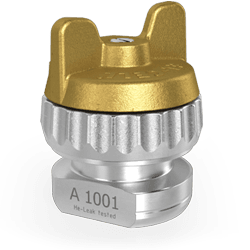 Cableless test cell for high-throughput testing of Li-ion battery materials using the innovative PAT-Core concept.