In a previous application note named "1001 reasons for using a reference electrode" we tried to convince you of the advantages of three-electrode cells with reference electrode over so-called half cells with lithium metal counter electrode. We claimed: "The large overvoltage at the lithium metal CE, the chemical reactivity of the porous lithium metal, and the growth of lithium dendrites render the "half cell" a poor model for lithium-ion batteries."
You doubt what we are saying? Watch this video clip showing the dendrite growth in a graphite-lithium metal half cell.
Using our ECC-Opto-Std test cell, we have placed a strip of graphite next to a lithium metal electrode (having the shape of a semicircle) on top of a glass fiber separator soaked with electrolyte. A sapphire window is placed on top of the assembly. By means of the applied mechanical pressure, the soft glass fiber separator deliberately fills up the gap between the graphite strip and the lithium metal electrode. We call this a side-by-side arrangement, because the two electrodes are placed side-by-side rather than being sandwiched as in a conventional set-up.
For the electrochemical cycle, the graphite strip is connected to the working electrode of the potentiostat, the lithium metal semicircle to the counter and reference electrode. The video shows how the color gradient evolves along the width of the graphite electrode during lithiation/ delithiation, and how lithium metal dendrites grow and shrink at the edge of the lithium metal counter electrode.
Noteworthy, many dendrites grown during the plating half cycle survive the subsequent stripping half cycle. We stopped the video just before this irreversibility resulted into an internal short circuit.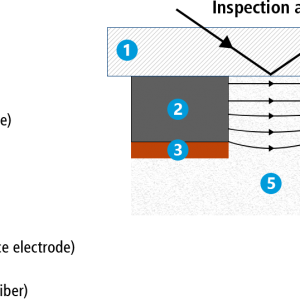 Lessons learned:
The ECC-Opto-Std is a flexible optical test cell allowing the visualization of electrode processes in both sandwich and side-by-side electrode arrangements.
With the side-by-side geometry, the evolution of the potential gradient along the width of a graphite electrode strip can be visualized, and the simultaneous growth and shrinkage of dendrites at the edge of the lithium metal counter electrode.
The observed lithium dendrite growth is largely irreversible. As a consequence, the life of a lithium metal "half cell" is easily ended by a short circuit caused by dendrite growth, rather than the aging of the working electrode.
You still doubt on what we are saying? In our coming up video we will show what happens when using a 3-electrode set-up with a lithium iron phosphate electrode as the counter electrode. Please stay tuned..