PAT-Cell-Aqu
PAT-series test cell for aqueous electrolytes and non-lithium battery systems
The PAT series test cell for two- and three-electrode testing with aqueous electrolytes
The PAT-Cell-Aqu is a battery test cell dedicated to the characterization of aqueous batteries. Functionally, the PAT-Core-Aqu comprises three components: the insulation sleeve with built-in separator and reference ring, and two 18 mm diameter current collectors, each contacted by a feed wire.
By default, current collectors and feed wires are made of pure gold. The feed wires are held in place by plungers made of PEEK polymer. As a result, the PAT-Cell-Aqu does withstand most aqueous electrolytes such as sulfuric acid (up to 50% concentration) or potassium hydroxide solution. Other metals such as Pt and Ni are optionally available as current collectors, and may be easily replaced by the user.
While most appropriate for aqueous electrochemistry, the PAT-Cell-Aqu can as well be used for aprotic systems beyond Li-ion with special demands on corrosion stability.
PAT-Cell-Aqu overview
Features
PAT-series test cell specialized for aqueous electrolytes or non-Lithium battery systems with special demands on corrosion stability.
Superior corrosion resistance against aqueous electrolytes (e.g. H
2
SO
4
, KOH). Also applicable to aprotic battery chemistries with special demands on corrosion resistance Specialized PAT-Core with reusable plunger made of PEEK polymer and gold current collectors (optionally other metals such as Pt, Ni) Use of current collector disks made of nickel, gold or platinum Single-use insulation sleeves with or without ring-shaped reference electrode Fast assembly and dismantling and easy cleaning of cell components Electrodes easily accessible for post-mortem analysis
Specifications
Compatible PAT docking stations
;
Recommended PAT-Core configuration
This information can be used as a guide for building test cells of the PAT series. More PAT-Core setups can be found here.
Testing with aqueous supercap electrolytes:
AC = Activated carbon
SS= Stainless steel 316L (1.4404)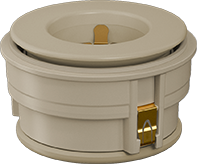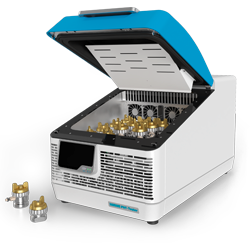 The PAT-Tester-i-16 integrates a temperature controlled cell chamber and docking station with a potentiostat/galvanostat into one single instrument.
Any comments about this page?