ECC-PAT-Core
The test cell for individual battery testing utilizing the PAT-Core concept
The ECC-PAT-Core is the stand-alone test cell with PAT-Core. As a genuine member of the small volume ECC test cell series, the ECC-PAT-Core can be directly connected to a potentiostat. The ECC-PAT-Core test cell contains all necessary components for using the PAT-Core concept.
The ECC-PAT-Core is the ideal Li-ion test cell for small laboratories with up to 10 test cells running in parallel. It is the right choice to become familiar with the new PAT-Core concept before using the PAT series to the full extent.
In summary, the ECC-PAT-Core enables researchers to obtain outstanding results from two- and three-electrode battery tests on a small scale.
ECC-PAT-Core overview
Features
Ability for conducting long-term half cell measurements with three electrodes over more than one thousand hours of battery operation
Fewer mistakes from corrosion and cross contamination Increase of testing productivity by single-use concept Measurement of half cell impedance spectra of unmatched quality No need to clean or dry cell components Fast assembly and dismantling lowers lead times of experiments Easy and reliable electrolyte filling during assembly (defined electrolyte volume down to 0.05 cm³) Reliable sealing with PE seal and double cutting rings Reproducible and homogeneous mechanical pressure on electrodes High precision 18 mm diameter sandwich geometry with a concentricity better than 0.1 mm (electrode and separator dimensions are compatible with other test cells of the ECC-series) An upgrade kit is available for customers, who work already with
ECC-Std
,
ECC-Ref
or
ECC-Combi
test cells.
Recommended PAT-Core configurations
This information can be used as a guide for building the PAT-Cell. More PAT-Core setups can be found here.
3-electrode testing with aprotic LiPF6 based electrolytes
2-electrode testing with aprotic LiPF6 based electrolytes
3-electrode testing with aprotic supercap electrolytes
*x = Height number (50 to 800). Use our configurator to determine the proper lower plunger.
**AC = Activated carbon
Assembly of the ECC-PAT-Core
This video shows the components of the ECC-PAT-Core and assembly procedures.
Punching tool for lithium foil. The recommended size for use with the ECC-PAT-Core is 18 mm.
High precision cutting pliers to eliminate torn and chipped electrode edges. Recommended diameter size for use with the ECC-PAT-Core is 18 mm.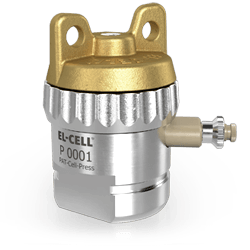 The PAT-Cell-Press is the ideal, leakproof cell for pressure testing.